It is possible to combine a full sailing experience with marvellous trekking sessions in some of the best spots you can imagine.
---
We are passionate ski tourers and trekkers. In the winter we have our base in the Pyrenees, at our www.thebaqueiralodge.com. From there we ski tour and climb many peaks. Over the time we have developed a very close relationship with the mountain guides there. During the long winter nights we have spoken of combining two of our most loved activities and have come with this proposal.
We have studied which places offer the best combination of pleasant sailing, good overnight shelter, and trekking opportunities to match from the beginner to the advanced level, including full rigged climbing. Menorca, Mallorca, Corsica are some of the ones we have identified with very good opportunities.
For this trips we enrol Isidro a very experienced mountain guide that will lead the trekking activity. In a typical day you will add to the sailing activity a 3 to 6 hour trekking one.
We will access the trekking with our dinghy, and most likely you will end your activity in a different place, where the boat will be waiting for you.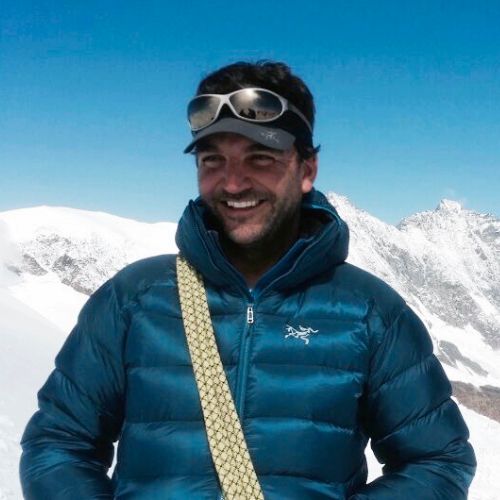 Isidro
Mountain guide
B.A. in Philosophy and Education, he moves in 1999 to the Val de Arán in the Pyrenees. There he works for 4 years as Safety Pister in the Baqueira Beret Ski Resort and as Mountain Guide in the summers. Afterwards he becomes ski teacher and ski competition team trainer. He gets certified as High Mountain and Canyoning Guide.
Actually he is trainer at the ETEVA Mountain Guide and Ski Teacher Academy, he is a UIMLA Mountain Guide and ISTA trainer.
During the winters he works as Heli ski Guide for Heliskipro. In the summer he travels often to Andes, Himalayas, USA, Africa, Alps for different Trekking companies.
He is a passionate mountaineer, he loves sharing his knowledge and is a person that transmits serenity and control in all circumstances